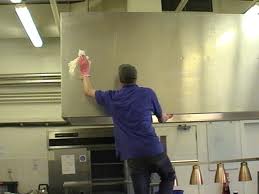 Having a clean property that we live in is very important. All of us prefer our homes to be clean, tidy and pleasant to live in. The well maintained and cleaned property in not only a thing that we like to have, but as well a necessity in order to lead a healthy and peaceful life. And sometimes just a general tidy up of the property is not enough.
There comes a time when a much deeper and more thorough clean of the premises is needed. And this is something that has to be done not only during the Spring. Deep cleaning of the property is something that we have to do at least several times during the year in order to live in a properly cleaned and healthy home. We can be there for you when this time comes and offer you our Deep cleaning services.
Our company has specialised in offering Professional Deep Cleaning services for almost a decade now and they are up to a high and professional standard. We work only with professional cleaners who are reliable and trustworthy. They have mastered the Deep cleaning to perfection and know the best possible ways to handle even the toughest tasks. When they arrive at your property they will cover the service perfectly and achieve the best possible results.
We perform this service to both private and corporate clients since sometimes offices and working spaces need a more detailed cleaning as well. Perfection is our priority and your satisfaction is something we really focus on.
There will be no need to worry any more if the holidays are coming, or if you are waiting for your guests or relatives or you simply would like to have the property cleaned properly. You are thinking to throw a big party or make a few renovations at home? You should not bother any more. With our Deep cleaning all sorts of grease and grime will be removed and everything will shine from top to bottom. Everyone will be enchanted with your cosy and beautiful home and you will enjoy the glorious results achieved.
Our professional cleaners use only the best high-quality products and equipment. Whenever you decide you want your home perfectly cleaned and sanitised, give us a call and we will send a team of the best deep cleaning professionals that will not leave anything behind.
Deep Cleaning Service includes:
Kitchen
Oven deep cleaning
Stove tops grease removal
Sink and Taps washed and disinfected
Extractor
Microwave
Fridge and Freezer (please turn off the night before and let them defrost prior to service)
Cupboards and shelves wiped and cleaned
Counter top and all surface cleaning and disinfection
Bathroom
Shower deep clean and disinfection
Wash basin, taps and hose disinfection
Sink and taps deep clean and disinfection
Toilet and seat (removing limestone and disinfection)
All surface disinfection
Walls of shower and tiles deep clean
Washing machine deep clean
Floor and all surface deep clean and disinfection
General House Deep Cleaning (Bedroom, Living Room, Halls)
Vacuuming all floors and under furniture
Cleaning all floors with disinfecting products
Vacuuming all sofas, under mattresses and upholstery of all kinds
All home appliances
Changing Linen
Dusting all surfaces and frames
Cleaning all mirrors
Disinfecting all door handles and doorknobs
Cleaning and polishing all furniture and doors
Cobweb removal
Cleaning all beds, wardrobes and cupboards
Cleaning all glass objects and surfaces
Cleaning windows and sills
Disinfecting all light switches and objects that are being regularly touched
All our cleaners are absolute professionals, aiming for optimum results and minimal disruption in your business place or home. All products used are non-toxic and of best quality. Do not hesitate to call us and book one of our deep cleaning teams. You will not be left disappointed.
Frequently Asked Questions
Do you bring cleaning materials?
Yes, our team will arrive fully prepared for your deep cleaning service.
Can you clean my windows on the outside?
External window cleaning is not included in the Deep clean service. However, for an additional charge you can get your windows cleaned on the outside as well.
How long does a Deep Clean last?
Depending on the size and condition of your property it can take between 4 and 6 hours. We do recommend leaving a 12 hour access just in case.
I need my carpets cleaned alongside my deep clean. Can you do that?
Absolutely, you are free to combine any of the services we provide, just make sure you mentioned that to your booking agent. We do provide a Deep Clean with Carpet Cleaning as well. We would be more than happy to do both for you.
Do you clean basements and garages?
Unfortunately, this service is not included in the Deep Cleaning of the house. However you can book it separately and we will send a professional team to do that, since different skills are required and there are health risk factors in such places.
When you clean my appliances, do you clean them on the inside as well?
Yes, you can book additional service for inside cleaning of ovens, refrigerators and other appliances.