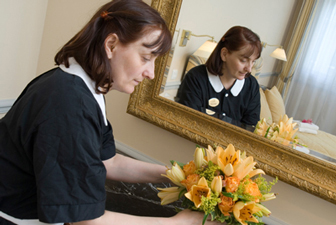 Along with all the houses and apartments we take care of, our company takes on a lot of places of business. Big office spaces, hotels, galleries, storage facilities and warehouses. While cleaning someones home needs a personal touch to it, working with commercial clients is a bit different. It has taught us how to provide top-notch services with maximum professionalism and deliver good quality service in strict deadlines.
After-event spaces, Airbnbs and office buildings require a good clean once in a while. We aim to provide that to all customers. Our team of great professionals makes sure that your business place looks presentable and nice. Often, shared public places need a deeper clean since there is a bigger accumulation of people which means more dirt and microbes.
Especially now that we jump from lock down to lock down, we want to provide the best sanitary conditions for everyone using our services as a commercial customer. We sanitise everything thoroughly and make sure it is in perfect condition after we are done.
We are equipped with heavy industrial cleaning machines if needed. Our technicians are well experienced in that particular type of cleaning so nothing can really stop them.
Give us a call, tell us what you want to happen to your facility and we will come do the job.
End of Tenancy Cleaning
Prices
Studio Flat
from

£89

One Bedroom Flat
from

£145

Two Bedroom Flat
from

£165

Three Bedroom Flat
from

£189
Our Services
Office Cleaning:
Whether you run a small office or big corporate headquarters, we will save you time and worries, making your space professional and clean in no time.
Wiping all desks and surfaces
Cleaning and disinfecting your keyboard and mouse
Disinfecting all objects that are regularly touched by many people
Cleaning of shared spaces
Office kitchens cleaned
Sink and taps washed and disinfected
All toilets washed and disinfected
All upholstery cleaned (steam or dry cleaning depending on the fabric)
All surfaces wiped and dusted
Floors vacuumed and mopped
Windows cleaned on the inside
For an additional charge we can take on your office kitchen more thoroughly (wash utensils, clean coffee machines, microwaves and refrigerators)
After Building Cleaning:
We all know how irritating it is whenever having any renovations, painting or decorating done to be left with all the waste and dust after the builders. This can take you days to clean, it is unpleasant and it keeps you from enjoying your new decor. Call us now, we have all the right equipment to come straight away and get rid of all that dust for you. We will dispose of all building and industrial waste, remove dust, vacuum and clean everything. This will leave you with not only a new and freshly done room/house but also with a clean, ready to decorate one.
Pub and Restaurant Cleaning:
People love to go out but no one likes a dirty restaurant. If you are going to eat somewhere and enjoy your time, you want it to be nice, clean and cosy. We provide professional cleaning for all pubs and restaurants. This will ensure that your clients enjoy the great quality you provide in a nice and clean atmosphere.
Kitchen deep clean
All utensils cleaned and disinfected
All kitchen appliances externally cleaned
All surfaces dusted and wiped
All floors vacuumed and mopped
Tables and chairs cleaned and polished
Any upholstery steam-cleaned
All mirrors cleaned
Bathrooms and Toilets cleaned and disinfected
Cleaning of all Storage units and rooms
Changing rooms and lockers cleaned and disinfected
Cleaning all windows on the inside
Wiping all shelves and cupboards
Disposing of all rubbish
After-Event Cleaning
You just had a party or an event and now you want to relax after it but you have a lot of leftover rubbish, dirty floors and a bunch of things waiting to be removed? We got you. We will send the team whenever it is convenient for you and they will make the place look like nothing ever happened in it.
Disposal of rubbish
Removing all furniture and objects that shouldn't be there
Cleaning all surfaces
Vacuuming and mopping all floors
Disinfecting all doorknobs and handles
Bathrooms and Toilets Cleaned and disinfected
No matter what kind of space you have and what circumstances you found yourself in, do not hesitate to contact us straight away. We can be booked any day of the year (including bank holidays). Our teams are going to be there for you.
We also cover
Frequently Asked Questions
Do you bring your own products and equipment
Yes, for Commercial cleaning, we provide our clients with the best-quality professional equipment. We also have industrial cleaning appliances that will make sure everything is set perfectly for you, no matter the condition of your premises.
Do I have to be there?
No, you do not have to worry about anything. Just make sure the team has access to the premises and go on with your usual business. You won't even have to supervise since our local area managers are there to do just that. You can always go for an inspection after and see how satisfied you are with the results.
Can you clean any kind of space?
Yes, we provide professional cleaning services to all kinds of commercial places. Office buildings, communal spaces, shops, warehouses, schools, hospitals, banks, restaurants and clubs. There is no task we do not take on.
How much does it cost?
Usually after you call the office to book the service, our office agents will ask you a few questions. Depending on the size and type of premises that you have, as well as the type of cleaning you will need, a reasonable price is estimated. We give you the offer, usually we combine a few of our services for such types of cleaning. (Deep Clean and Carpet Cleaning for example). For bigger spaces and a deeper clean needed, we may send an agent on-site. You can show them exactly what you wish to be done and they will decide what is best for your case.