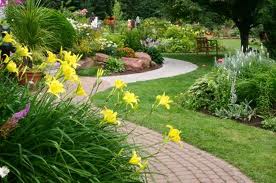 The garden is one of the most important parts of the exterior in every property. It is the first impression a person gets when they pass by your doors. And what is more pleasant and delightful than the view of a shiny peaceful flowery garden to surround your home? We all lead busy lives with fully loaded schedules, sometimes we just cant keep up with maintaining the garden as well as we would like to. Don't worry, Best Cleaners London know the secret of turning your garden into a magnificent place which will attract everyone's eyes! We are specialized in providing quality gardening services and aim to achieve excellent results.
Our professionally trained gardeners have a passion for their job and will make your dream garden come true. We, as a company aim to flourish and grow but unfortunately so does your garden. We are here to help you whether you just need a one-off maintenance of your lawn and bushes or any landscaping project that you always wanted in your backyard but never had. Here is what we specialize in.
Gardening Services
Prices
Gardening Service

£45

/h
Garden Maintenance
Refresh your front and rear garden in no time. You can have a one – off service or get an ongoing regular maintenance so you don't ever have to worry about your backyard looking like a jungle again. Regular maintenance consists of :
Lawn Mowing – Trimming the top of your grass to maintain its good aesthetics, improve growth and keep it looking fresh and green
Weeding – Rooting all weeds that are our of control and not in the right place
Hedge trimming – Keeping the good shape and freshness of all hedges to maintain their good looks
Tree and Branch Trimming – Any trees that are unwanted or branches that grew way out of place? We are the right people to fix that for you
Leaf Clearance – After the long winter a lot of leaves gather all over your garden making it look brown and dull. Let us remove them and turn it into a green paradise ready for spring
Jet Cleaning
This is the best solution when it comes to removing dust, stains or mud from your patio, driveway, decking or any type of outdoor surface that lost its previous glory and now looks dull and forgotten. Our team will come by your house and make it bright and shiny again. Using the best professional water pressure equipment we can remove all dirt in an eco – friendly way using only water. This is an extremely efficient way of cleaning, it is harmless for your pets and children. Jet cleaning is charged per square meter and not by the hours of work so it gives you a very affordable price for perfect results in return. Our professionals will come and make sure that everything is perfectly clean, using whatever is best for the type of surface that you have.
Patios
Paved Areas
Driveways
Bricked areas
Stone walls
Wooden Decking
Tile floors
Gutter Cleaning
Many people do not know how important it is to clean your gutter on a regular basis. If its clogged, it keeps the water in there and it eventually finds a way into your house causing molding, rotting of wood and many roof problems that might lead to even more serious troubles such as:
Leaking Roof
Moisture Gathering on your walls
Foundation or wall damage
Mold Growth
We offer a safe and quick cleaning with the best outcome. Our team has the latest professional equipment and will make sure to remove everything that is not supposed to be in your gutter but somehow ended up there. We use a special vacuum with a telescopic handle that ensures a safe way of cleaning the gutter from the ground, without any ladders involved. We also take before and after pictures so you are sure you got the results you have paid for.
This is how a service will be performed in case you book us:
You will have a member of the crew talk to you personally to see exactly what you want to have done, discuss measurements and details about the future project.
We usually request pictures, but consider that a visitation might be required to help us see what is best for you and this particular project.
A team of professionals will be sent over to your house, usually we send them in pairs, depending on the size of the project.
The Gardeners will bring their own equipment so you don't have to worry about that. They will start working on the job and you are free to supervise them if you wish. They are well-trained and we guarantee everything being done in the best manner possible.
When they are finished you can go inspect the work they have done and report back to us in case of any trouble occurring
* Feel free to ask them for anything else you might want to get done.
We also provide our services in the following areas
Frequently Asked Questions
How frequently should I organize a basic tidy up of my garden?
The basic tidy up of the garden is really important for the general look of it. Its proper maintenance is a must if you would like to have it properly trimmed and well organized. We recommend doing that at least once per month. Yet, it really depends on the different kinds of plants that you have there and how quickly they grow. If they need special care and attention, you may organize it on a fortnightly bases. We would be more than happy to assign you to a professional from our company who can give you proper advice for your particular case.
What does the basic gardening service involve?
The basic gardening means a general tidy up of your garden. A professional gardener will attend and trim the hedges, prune the trees, collect the leaves, mow the lawn, clean the flowerbeds and collect the leaves. The whole garden will be clean, tidy and put in order. According to the garden's size and condition this can be done once a month or more often, for example every week.
Can I combine more than one service at a time?
Absolutely! Let's say you want us to maintain your garden and clean your patio you just have to give us a call and tell us that so we can arrange for the right professionals to come around and do that.
Where can I see pricing?
You can check the prices page here on our website or call us straight away.
Do I have to be around when you send the team?
Not at all, it is entirely up to you. Some customers like to stay and supervise and others are busy with their personal business and not present. We just need to make sure we have access to the premises on the day chosen.
Are you fully insured?
Yes the whole company, employees and services we provide are 100% insured so you don't have to worry.
If it happens to rain, will you still come around?
We try to check the forecast regularly in order to avoid this kind of scenario, however if it happens to rain all of a sudden, our team can still come and do their job. If it prevents them from giving you the best results, we can easily shift your appointment.